Posts: 58
Joined: Fri Nov 25, 2016 10:09 pm
Hi All,
Having mostly used the forum to lurk and sell things I thought that there might be some interest in a project I've been working on the last year or so (yes; progress is very slow!): painting up some old stuff for Advanced Heroquest. Yes I am finally contributing something to the community!
Advanced Heroquest was one of the first GW games I encountered. My older brother brought it back from Newcastle GW one day after a sale. The sentiments in this article (
https://www.shutupandsitdown.com/pauls-most-important-gaming-memory/
) on SU&SD really nicely matches my own nostalgic feelings about the game; like the author I spent many hours playing solo, re-writing the rules and combining the set with any other minis I could get my hands on. Being about ten at the time needless to say my pocket money didn't stretch very far. Unlike the author I don't think I ever had an illicit day off school to play it!
In the last few years I've spent a fair few quid on eBay getting some nice old lead, the kind of stuff I spent many hours poring over in catalogues when I was younger. Recently I also got hold of a copy of AHQ for a decent price and decided it was the perfect motivation I needed to put together a painted group of lovely old Warhammer miniatures! Rather than go with the traditional Skaven I wanted some greenskins (I've had them a bit longer than the Skaven, so seems only fair that they get to be painted first), so I worked out what I'd need to complete the Orcs & Goblins Monster Matrix* which appears in the Terror in the Dark expansion. I find having a limited list to paint up better for motivation than just a big pile of everything; and it seems like I only need to finish 23 figures to complete the minimum requirement.
* The Monster Matrix is a random generator used by AHQ to choose what's lurking behind doors or corners. There's a number of different ones you can use to theme your dungeons and avoid them becoming a mixed soup of fantasy creatures.
On to the minis!
I started with a couple of plastics from the Fantasy Regiments set to get the colours. I'd never painted the Fantasy Regiments minis before and I was pleasantly surprised at their detail. I've also spent a while trying to get the bases to match the distinctive yellow-brown boards of the set! Zamesi Desert seems quite a good match!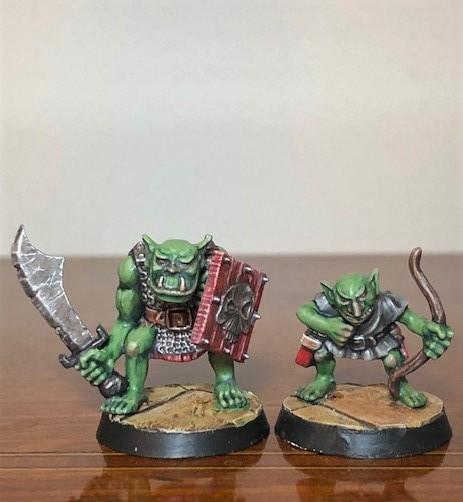 I've picked a range of metals (and some plastics) from different eras for the project. Here's the older greenskins.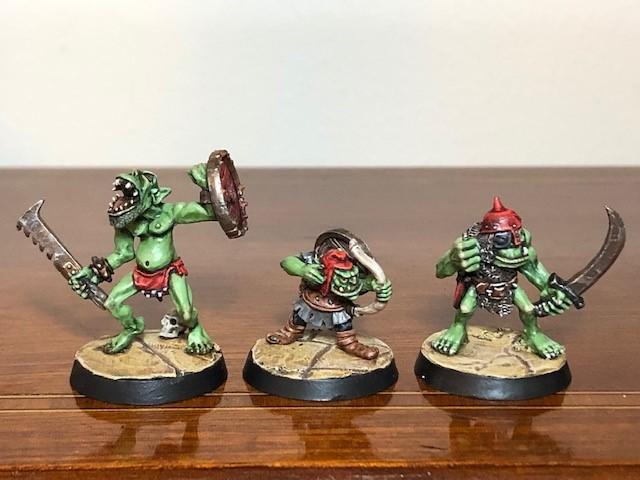 I am really enjoying trying out some freehand shields. I remember following the Mike McVey guide in one of the painting booklets as a kid and getting crap results- hooray for patience and experience!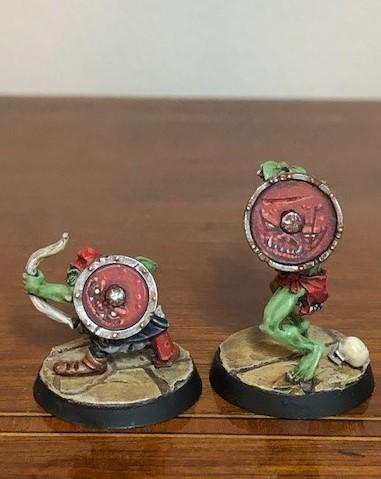 Slightly newer Kev Adams classics. These chaps are more from 'my era' so they're very dear to me. The goblin in the middle was actually painted a few years back so he's not quite up to the standard of the other ladz.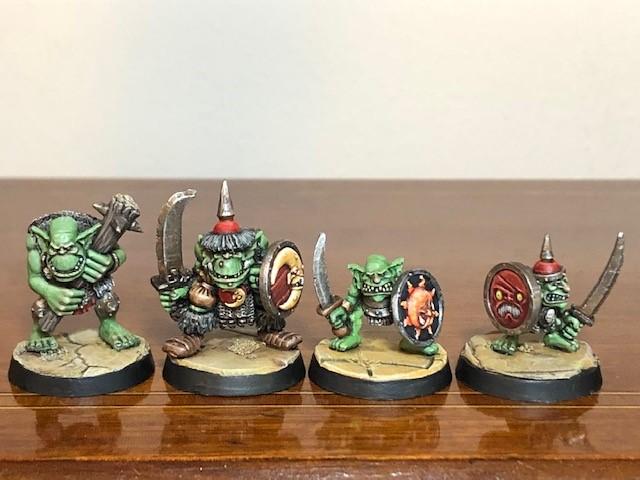 Snotling. These guys don't have rules in AHQ, but I can't resist doing a few. I may knock together some house rules for them or play them as 'counts as' Giant Rats.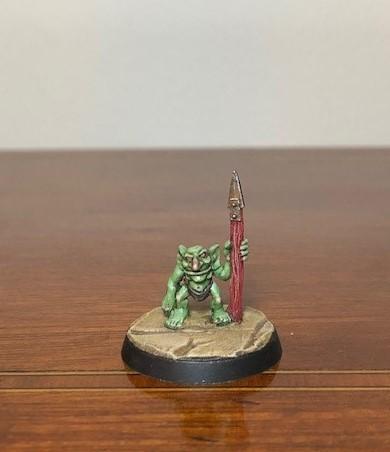 At the other end of the scale- River Troll! I spent a while on this big guy. He was fun to do and I'm very pleased with him. Messed about adding a snail and a few puddles of slimy water to the base. One of the big draws with the Greenskin Matrix is that it's got a couple of Ogres in it too which I am really looking forward to tackling.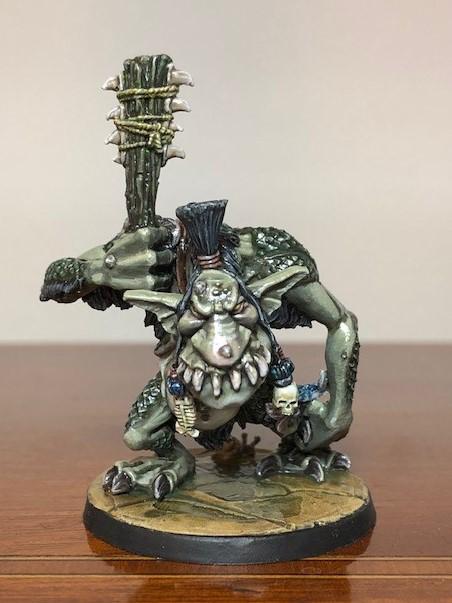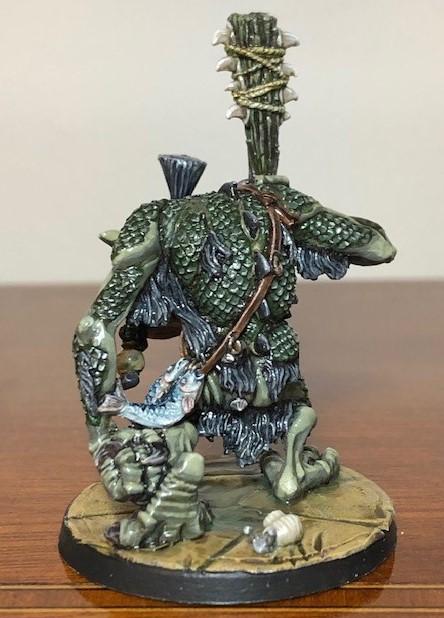 I'm also planning four heroes for the orcs and gobbos to knock about, maybe with some metal men-at-arms* too. Here's one of Bugman's lads for the Dwarf hero and one of Scarloc's fellers for the Elf. And a plastic AHQ Man-at-arms who needs a logo for his shield.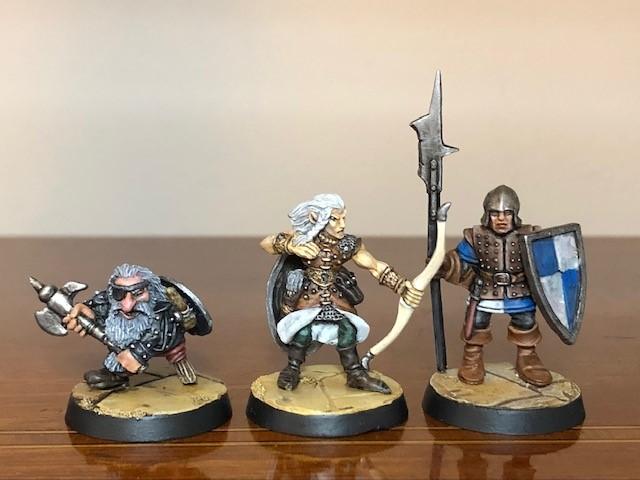 *In Advanced Heroquest your heroes can hire men-at-arms to venture into the dungeons with them and invariably die.
I also did these doors last week and really enjoyed painting them! The texture of the wood is really rewarding to paint.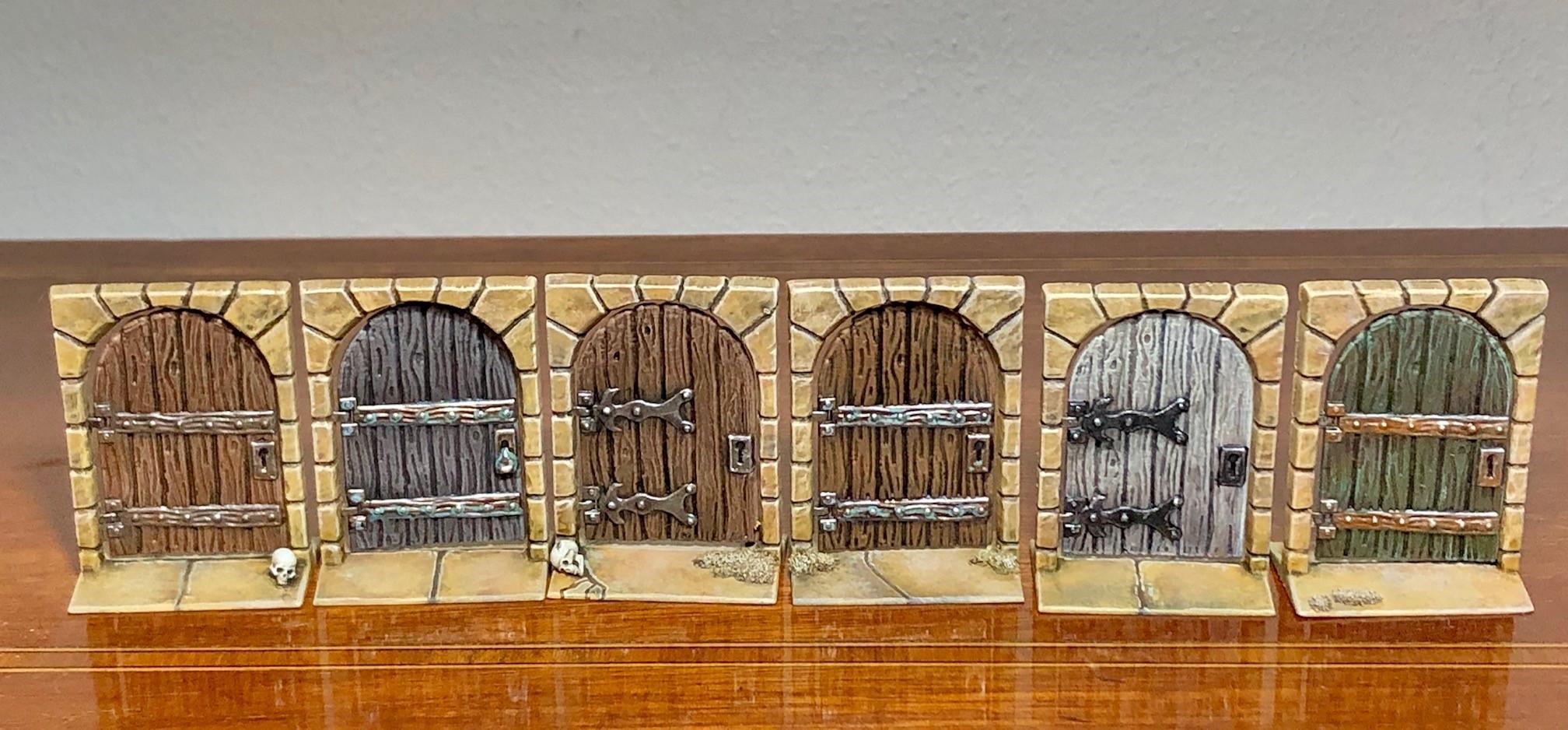 Hope to post more soon!