Posts: 2176
Joined: Fri Aug 03, 2012 12:19 pm
I think it's one of those things where if you have to try to explain the joke, it's already too late.
The most technologically advanced species in Rogue Trader are bloomin Orangutans. IT'S A JOKE!
AranaszarSzuur wrote:The background doesn't support Space Marines being weaker than non-enchanced human heroes, the opposite, it states that they are ultimate warriors of humanity.
Baseline Human < Ultimate Warriors < Minor Heroes < Major Heroes.
It's a simple heirarchy. The background doesn't support Space Marines being better than a Major Hero, better than baseline human yes.
You seem to be taking a few instances of hyperbole against the massive onslaught of contrary data. We can all play that game:
"...a variety of musical instruments may be bought into the fray." (p.155)
"...the battle-brothers recite liturgies, and incant battle-prayers" (p. 160)
"...each chapter has it's own banners, and some chapters even take them into battle " (p 155)
That's right, it's the Imperial Salvation Army!
And yeah, we made jokes about Space Marines being the Salvation Army back in the day.
AranaszarSzuur wrote:How about:

We have a statuesque heroic marine
Looks much more like:
Than anything in Rogue Trader. There are no 'statuesque heroic' space marines in Rogue Trader, it's not a relevant trope, it's something that came along after, it's the same machismo fist-pumping. On the other hand, in Rogue Trader there are shedloads of images of Space Marines getting thrashed, blown up, skulking around trying not to get shot, shooting punks in alleyways, arresting graphiti kids, enslaving Squats, getting shot in the head by Orks with bolt pistols. None of them are in cheesy heroic poses.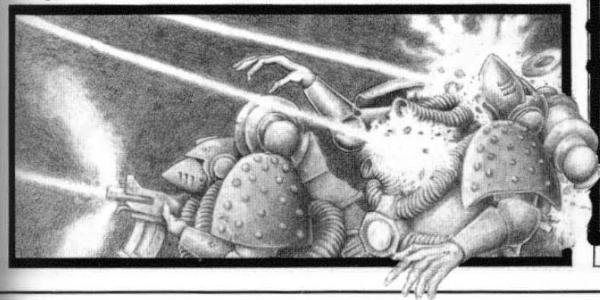 And for whatever reason they're getting shot to bits, whatever they are getting lazered up by, they simply ain't depicted in a heroic manner.
Keep Kalm and Pass Kool Tests.