Posts: 469
Joined: Wed Jun 11, 2014 9:21 pm
Location: Near Nottingham
Edited 28 July 2015 to confirm schedule
-----------------------------------------------
Current plans are:
Friday 2pm - Skarsnik as CW (one CW place free)
Saturday 10am - Tatsujin as CW (one CW place free)
Saturday 5pm - Thinking about doing another slot if there is interest. No players yet.
Sunday 1pm - Just John as CW (one CW place free), Tatsujin as Darkness
As an added inducement I'll be giving away a model of Darkness (unpainted), to the first player to kill Darkness - or the one who got nearest at the end of the weekend. It's this demon from my range sold by Lancer
http://lancerminiatures.com/index.php?main_page=product_info&cPath=123&products_id=1243
If you want to play then please post in this thread, and let me know promptly if your plans change and you can't make it. I will run a waiting list if necessary. You will need to know 1st edition Space Hulk rules (particular activation, command points and overwatch), otherwise you won't stand a chance.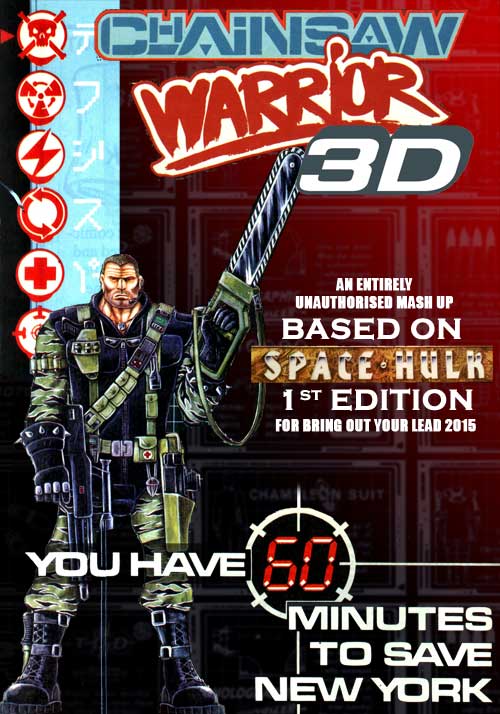 -----------------------------------------------
Original post at start of thread:
I've started a new project which I'm planning to take to BOYL 2015. Basically it would be using Space Hulk turn sequence and movement rules with Chainsaw Warrior models. 1 -3 players would have 60 minutes of real time to take up to 3 squads of troops into some custom building layouts and battle through a horde of zombies, chaos agents, rats and mutants to kill Darkness (if they get that far). It would be a participation game so you could either pre-book or just turn up and play.
If you would be interested in playing then please let me know - it would encourage me to crack on with it and get it done if I knew there were definitely prospective players.
Got the Chainsaw Warriors ready to go, and more is already in the pipeline.

Last edited by
Scalene
on Wed Jul 29, 2015 12:55 am, edited 2 times in total.

New blog for 2015:
http://www.warfactory.co.uk/wp